tl;dr: Get every book about R & related topics for just $5 at Packt Publishing until the end of this year.
---
Packt Publishing is currently offering a special sales campaign. You can buy every book for only 5 Dollar until the end of this year. We think, this is a great chance to broaden your R horizon regardless of whether you are a beginner or professional R user. Therefore we have compiled a list of five of the newest and most promising books about R.
Our Top 5 Best R Books For 5 Bucks:
The enthusiasm for R remains unbroken. A current analysis shows that R is even the fastest-growing language on StackOverflow.
Most of the times R is primarily associated with data analysis. Therefore, our first recommendation is precisely devoted to this topic.
Load, wrangle, and analyze your data using the world's most powerful statistical programming language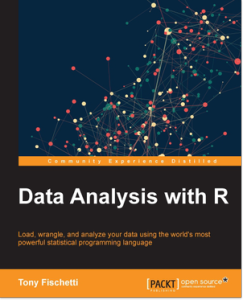 Freshly released, this book is specially aimed at R and data analysis beginners and delivers a practical guide to load, manipulate and analyze data.
Become an expert in Bayesian Machine Learning methods using R and apply them to solve real-world big data problems
Do you ever asked yourself how to use this magic thing called Bayesianism with R? Learning Bayesian Models with R offers you a great point to start using Bayesian models in R with a focus on machine learning methods.
Harness the power of RStudio to create web applications, R packages, markdown reports and pretty data visualizations
In many programming languages you can choose between several good IDEs (Integrated Development Environments), but when it comes to R there is virtually only one professional IDE: RStudio. Mastering RStudio is aimed at people with a solid R understanding who wish to speed up their R development abilities by taking advantage of the extensive functionalities of RStudio.
Master machine learning techniques with R to deliver insights for complex projects
Machine learning is a really hot topic and clearly one of the top buzzword in the analytics scene. In fact, machine learning and its techniques are not as easy and quickly implemented in R as one might think. Because of that Mastering Machine Learning with R gives you valuable insights on how to solve complex business problems with R and machine learning.
Work with over 40 packages to draw inferences from complex datasets and find hidden patterns in raw unstructured data
Since it is a regular pain for nearly every data analyst to start an analysis with messy raw data, last but not least we added another book to our 5 for 5 list. Unsupervised Learning with R will help you step by step to bring order into unstructured data chaos.
This is of course only our top 5 of 5. Hurry up to take advantage of the drastically reduced price of these R books. Feel free to add your own top list in the comments.
Lastly, I would like to wish you a happy new year. J
[Disclaimer: @julianhi, founder of this blog and I are the authors of Mastering RStudio.]